Testing benches and training benches
SIET designs and build-up testing benches for carrying out laboratory tests (according to the relevant standards) and for the process control. The instrumentation and the data acquisition systems supplied allow the monitoring of the tests as well as the precise and accurate control of test parameters. The bench data processing system guarantees accurate analysis of the results as well as rapid and complete reporting. Benches are created for special applications or on the basis of particular requests by customers.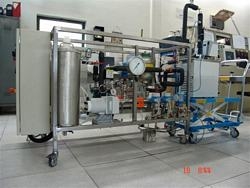 SIET supplies complete "turnkey" systems and guarantees total assistance also after delivery of the product, including training of personnel. SIET updates the existing testing benches according to the customer's needs and provides any necessary implementations. The company's aim is to provide customers with a product that is always more complete, that meets individual needs, reliable, with accurate and repeatable measurements, and that is easy to use.
Typical examples of products:
Testing bench for thermostatic valves on radiators
Training bench for centrifugal pumps for university level students
Training bench for gas turbine-compressor units for university level students