Instrumentation and data acquisition
SIET realizes data acquisition and processing systems with a very large hardware capability including analog measures for testing purpose, analog outputs for piloting of proportional actuators and digital inputs/outputs for surveying and controlling ON/OFF equipment. The data acquisition system of the SPES experimental plant can manage and monitor, during the operation, over 600 measures of thermal-hydraulic parameters and over a hundred of ON/OFF actuators. Thanks to these experience SIET can design, prepare and test data acquisition/processing systems to satisfy a wide range of requests.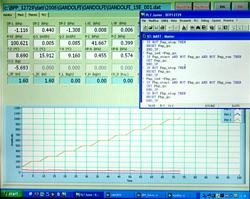 The use of equipment based on standard and well known technologies allows SIET to prepare reliable and durable data acquisition systems. The modular design of our measuring systems allows us to make rapid modifications of the structure and replace the devices when required.