Thermostatic Valves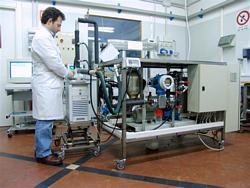 Thermostatic valves are used to control the heating systems in accordance with the objectives of energy saving.
Since 2000 SIET has been accredited by the Standard European Committee as Test House for licensing the use of the CEN mark on thermostatic radiator valves in accordance with the European standards EN 215 and KEYMARK CCC3 certification scheme.
SIET S.p.A. represents, for the Italian and European manufacturers of thermostatic valves, the accredited laboratory for granting and keeping the CEN mark, for developing new models and for all research activities relating to these components. All Italian manufacturers of certified thermostatic valves and many European manufacturers make use of SIET as a reference Test House and also for the activity of annual inspection.