Rod bundles of a fission reactor
SIET performs experimental campaigns to study the heat transfer and critical heat flux on full-scale LWR fuel bundle simulators. The thermal power is generated by Joule effect in the experimental facility by means of direct or indirect heating. Tests are performed with cooling fluid in full operating and power conditions up to ~ 7 MW.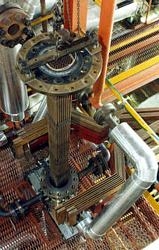 Among the tests performed, either in stationary or transient conditions, we point out those performed on a typical 8x8 BWR rod cluster and on a CIRENE reactor fuel element simulator.