Steam separators
GEST- SEP EXPERIMENTAL PLANT

This facility was started in 1984 and is mainly used for large scale qualification of components working in the presence of a water-steam mixture. The special performance of the GEST SEP facility (of a world-wide standard) allows us to test the operation and efficiency of steam-water separators installed either inside PWR steam generators or in Boiling water Reactors.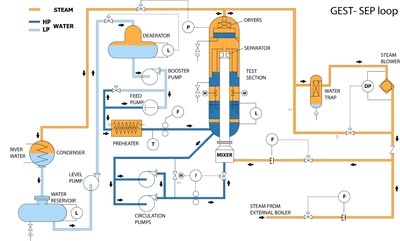 Multinational companies like Westinghouse, Toshiba, Mitsubishi, Doosan have used this facility for testing the correct operation of their equipment. The facility can also be used for performance and qualification tests, development and research on a wide range of mechanical components at the conditions reported in the following table.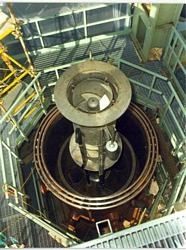 GEST-SEP fluid conditions
WATER
SATURATED
STEAM
SUPERHEATED
STEAM
Flow rate, kg/s
200
40
8
Pressure, MPa
10
10
10
Temperature, °C
310
310
500